I was a backer of the RhinoKey EDC tool on Kickstarter, but it was a big mistake. If you are thinking of buying one as a gift (or for yourself), avoid this particular brand and get yourself a SmartKey or something else instead.
RhinoKey Titanium EDC tool started life on KickStarter in November 2019, with the project fully funded mid-December 2019, with 1,589 backers pledging €94,020.
The final rewards were expected to ship in March 2020, but COVID-19 hit. Since then, the project has been constantly delayed and I finally received my reward a year later in November 2020. Even now, many backers have not received their rewards, but this is another issue.
The idea was a good one – a tool you can carry that has useful features that you could use. We were promised quality and premium build. This is a early image of the product: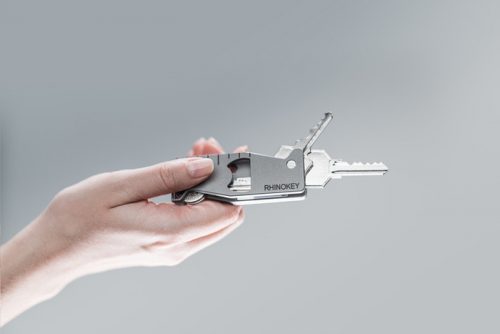 Unfortunately, reality wasn't the same. The product I received (and I received 3 of them), were far from perfect or even good quality. At €34 each, the workmanship was very poor.
Below are two of the RhinoKey I received. You can see a number of imperfections and issues with them, including:
One of the keys is missing the RhinoKey branding
Battery cover on the inside doesn't sit flush against the metal case
Battery cover has sharp edges and also looks like it's been scratched
The LED button (which you can't see) is difficult to press unless you have long nails.
The LED light isn't bright enough to actually use in the dark, and therefore not fit for purpose
The marking (which is supposed to form a ruler) are faint on one of them.
The marking (which indicate inches and centimeters) are not accurate. In the image below, the centimeter scale is out by at least 1 millimeter.
In general, most of the edges are sharp and hazardous.
It's fair to say that this product isn't worth the money. There are too many issues to justify the price. At this point, I never went as far as using the product and adding my keys, so there could be further issues to discover. There are several unhappy customers over on Kickstarter, who have left other feedback.
Just received mine today. I got the 3 ordered. I'm not impressed at all by the product. It could have been made way better in term of final design and finishing (Better screw system, better back plate for the led system and absolutely no sharp edges). Hope it will last and not destroy my pockets.

Jeremy Cordelle
Received my two rhinos. Titanium and Stainless steel version. The titanium Version is less heavy than the stainless steel version. If I would sell the rhinos I would only offer the titanium version. The finish of the rhinos is good but could be better on some edges. The light is ok but not so useful as expected. So if there would be a version without the light I would go for this one. Also the part could be made thinner without the light I think.

The extra key loop for some other keys like car key or Bike Lock ist useless on this place. I will also go for some other screws

Paul P.
It also looks like the seller, Robert Balk, is deleting the poor reviews from the RhinoKey website, while keeping the 5-star reviews to intentionally mislead customers.