Amazon has its own courier company (called Amazon Logistics), but it doesn't offer the kind of service you may have been used to. Especially with high value items, as I recently found out. And it doesn't appear to be a one-off (or two-off) case either, as many customers have been complaining about the poor service.
Back in May, I pre-ordered a PS4 pretty soon after Amazon UK first listed the consoles online. I was later excited to learn that my console would be arriving on launch day – November 29th 2013, thanks to Sony guaranteeing stock for pre-orders before August. When Sony revealed upgrades to bundles packages, I opted for the PS4 Mega Pack offered by Amazon, upgrading my order effortlessly. The Mega Pack included the Player Edition of the PS4 (containing the console, two DualShock 4 controllers, the PlayStation Camera and Killzone: Shadow Fall), and FIFA 14.
Closer to launch date, Amazon emailed me to say that the console had been despatched, and confirmed launch day delivery at no extra cost. However, come launch day, Amazon Logistics (the courier company tasked to deliver the console) didn't show up. After contacting Customer Service, I was assured that the console would arrive as they deliver until 9pm. After already waiting at home for the better part of the day, I had to wait a further few hours in the evening too, to no avail. The console didn't turn up.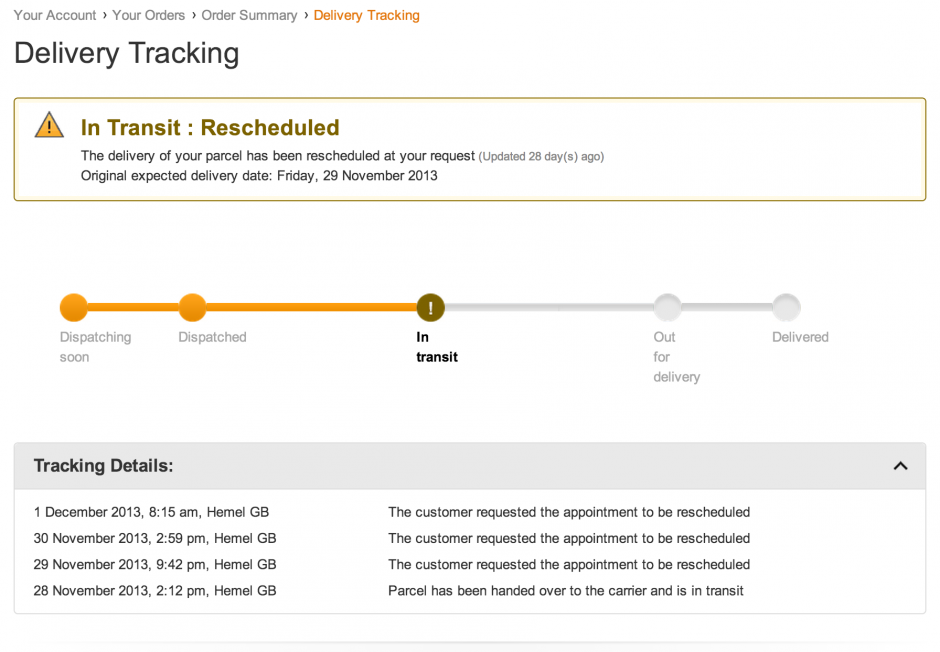 After contacting Amazon over the next few days, I eventually learned that the package has been lost at the depot and never even made it onto the delivery van. It took Amazon around 4 days to get their courier company to tell them this, and only after I repeatedly contacted them on a daily basis. Amazon then refunded my original order and played a new order for the same bundle when it was in stock again.
At least I received a refund fairly quickly, but I was still disappointed that I didn't get the PS4 on launch day like it was promised. About a week later the new order was placed and estimated to arrive between December 19 2013 and December 21 2013. I later got an email to say that the PS4 would be delivered on December 14 2013 – ahead of schedule, and this time, the PS4 was loaded onto a delivery van unlike the previous order.
I waited until 6pm but the delivery didn't turn up – wasting another day like last time. However, this time when I went to track the package, I noticed that the Amazon Order page has been updated to say the PS4 was delivered at 4pm. I was home the whole, in view of the front door, but no one has even parked up outside my house let alone attempted delivery. I would expect the courier to take a signature when delivering the item so I assumed a neighbour must have picked it up.
I check with both but neither of them has accepted any deliveries. I contact Amazon Customer Services letting them know that the package has been updated to indicate it had been delivered but it hasn't actually arrived. I had to wait 24 hours before expecting a reply. After 48 hours I still hadn't heard anything back, so I contacted Amazon again, who then contacted the courier.
A day later, the local Amazon Logistics delivery guy stopped by my house to investigate. He told be that he usually deliveries to the area, but he didn't remember ever stopping by my house before. He said he would never leave a package outside the house and would always get someone to sign for it. He later ran his boss to see if it would be at the depot, but I told him that the tracking information said that the PS4 has been loaded to a delivery van.
The following day, the Amazon Order Page said that the package has been signed for, but to my confusion, it said it has been signed by me. I asked Amazon to investigate further, and provide proof that it has been signed for by me. Eventually, Amazon couldn't actually provide proof (as it wasn't actually delivered or signed for) and gave me another refund.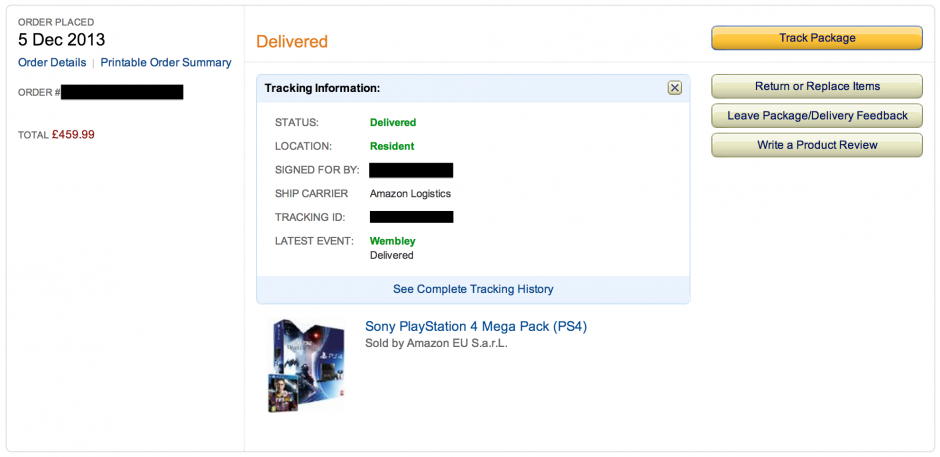 I decided not to order from Amazon again and was lucky enough to pick up a PS4 at my local Argos when it was back in stock. The Amazon Forums are full of comments with similar experiences to mine. It doesn't look like its a small issue either, with over 1000 posts dating back to May 2013 by over 460 people. Many comments refer to undelivered Christmas presents and delivery drivers indicating a delivery attempt was made without actually making one!
Have you had a similar experience with Amazon Logistics? Tell us about it in the comments section below.